There are only four days left until the begining of the National Honey Fair, 15th edition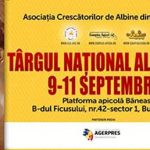 , organized by the Association of Beekeepers in Romania. It will open its doors on Friday, September 9th, 2016, at 10 am, at the Apicultural Platform Baneasa, Bucharest, Blvd. Ficusului No. 42, sector 1.
We invite you to visit the Dulcofruct stands No. 56 and 57, where we will bring to your attention the most professional solutions for bee feeding with the highest standards of quality, safety and veterinary safety.
Together we support beekeeping!