Use the fidelity card in our "Dulcofruct" partner shops
Because we want to repay you for buying our "Dulcofruct" products we offer you the possibility of taking part of our fidelity program. Therefor you will receive for free the "European Beekeeper", with it you can purchase beekeeping products by accumulating fidelity points, its value in money you can spend in Partner Shops.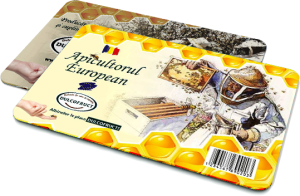 The project "European Beekeeper" initiated by Cirast is at its starting line. Starting with the 4th May it became the soul instrument specially conceived to offer the beekeepers the multitude of products necessary for the beekeeping activity, having dedicated prices, solutions and services.
This card is meant to maximize the commerce with beekeeping products by adding as much beekeeping products as possible including Romanian producers or importers that help support beekeeping in our country.
All you have to do, to have the card in your possession, is to complete the Adhesion Form that you will find in the: 'European Beekeeper' Participant Stores.
'This is our way of saying thank you for choosing to take part in this project'
The advantages of using this card:
On the spot benefits of discount and fidelity points (money on the card) for each Dulcofruct purchased product or any other product included in the program.
Use the accumulated fidelity points (money on the card) to get free products much need it in your activity.
Use the card with no costs
Participate in promotional campaigns, be the first to find out the special offers
Enjoy the free consultancy and the power of the beekeeping group in your region.
Check out the Official Regulation.